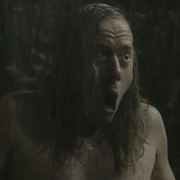 The Wimbledon Streaker is a deviant flasher who practices his depraved fetish on Wimbledon Common, and is played by Rupert Bates. He wears nothing more than a long brown trenchcoat.  In "'s Out" the Streaker waves his todger at Richie and Eddie whilst they're busy seting up camp on the Common, leading Richie to remark on the size of his manhood. After nightfall, he opens their tent and thrusts his genitals through the flap. In a panic, Eddie pulls the zip down over his penis causing him to scream in agony, and run off into the darkness with the tent still attached.
Ad blocker interference detected!
Wikia is a free-to-use site that makes money from advertising. We have a modified experience for viewers using ad blockers

Wikia is not accessible if you've made further modifications. Remove the custom ad blocker rule(s) and the page will load as expected.