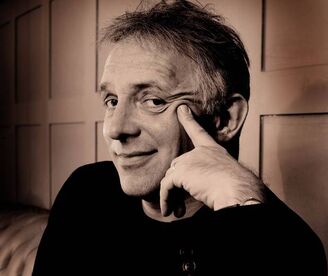 Rik Mayall (b. 7 March 1958 d. 9 June 2014) was a British actor and comedian, known for his long professional relationship with fellow actor and comedian Adrian Edmondson, with whom he was friends with for many years. He is best known for playing sad loser Richie in the sitcom Bottom, but prior to this was infamous for his outlandish, pompous and anarchic on-stage persona. He was one of a number of comedians who originated the alternative comedy boom of the 1980s, starting out at The Comedy Store, a popular club in London. The club regularly featured such performers as Paul Merton, French & Saunders and Alexei Sayle. As well as performing with Ade as a double act, Mayall regularly performed solo as various characters of his own creation. Rik and Ade's experience at the club led them and fellow comedians Nigel Planer and Ben Elton to set up their own club called The Comic Strip, which would soon feature as the title of a long-running television show.
In 1981 he had a bit-part as Rest Home Ricky in Shock Treatment, the sequel to Richard O'Brien's Rocky Horror Picture Show, and can also be spotted having a pint in the pub in horror film An American Werewolf in London. In 1982, after the success of The Comic Strip, he appeared in The Young Ones alongside Ade, Nigel Planer and future Bottom co-star Christopher Ryan. The show lasted for two series, and Mayall returned to the character for Comic Relief a few years later, singing a parody of Living Doll with Cliff Richard.
Mayall appeared on Saturday Night Live in 1985, creating another successful double-act with Ade titled The Dangerous Brothers. In 1986 he again worked with Ade and Nigel Planer in short-lived sitcom Filthy, Rich & Catflap. In 1991 he tried his hand at Hollywood with his appearance in Drop Dead Fred, portraying a recklessly energetic imaginary friend to Phoebe Cates' despairing twenty-something.
Following successes with Bottom, and its live shows and film, Mayall appeared in various comedies and dramas, including The New Statesman, Blackadder, Midsomer Murders, The Bill, Jackanory, Jonathan Creek, and ITV's Believe Nothing. The comedian Greg Davies has been invariably compared in appearance as a "taller, fatter Rik Mayall," something which Davies acknowledges and frequently incorporates into his stand-up routine. Such is the uncanny resemblance between the two, Davies had Mayall portray his own father in the sitcom Man Down, despite Mayall being only 10 years older.
In 2005 Mayall published his autobiography, titled The Rik Mayall: Bigger Than Hitler, Better Than Christ.
In 1998, he was seriously injured in a quad bike accident which left him with a life-threatening head injury. Expected to perish, he made a miraculous recovery and continued to work for another 16 years, until his untimely death at the age of 56 on June 9th 2014 from what his widow called an "acute Cardiac event" brought on by a run.
On November 14th 2014, after a fundraiser and petition to Hammersmith Borough Council by fans, a bench was placed on the traffic island featured in the opening credits of Bottom, complete with a plaque dedicated to Mayall.
Accolades & Tributes
Edit
In 2008, Exeter University awarded Mayall an honorary Doctor of Letters (DLitt.)
Rated 91st in a 2010 poll 'Top 100 Stand-Up Comedians.'
After his death an unofficial blue English Heritage plaque was unveiled in Hammersmith in tribute to his role in Bottom and the show's association with the borough. The citation reads 'Rik Mayall 1958-2014. Punched his friend in the balls on a bench near this spot.'
Ad blocker interference detected!
Wikia is a free-to-use site that makes money from advertising. We have a modified experience for viewers using ad blockers

Wikia is not accessible if you've made further modifications. Remove the custom ad blocker rule(s) and the page will load as expected.