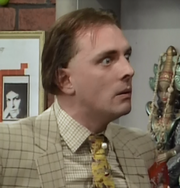 Richie Rich is one of the three main characters in
Filthy, Rich & Catflap
. He is the creation of, and is portrayed by, British actor and comedian Rik Mayall. 
Appearance
Edit
In the spirit of his fame-seeking and diva-like character, Richie is a very gaudy dresser and is seen wearing all manner of colourful outfits.
Personality & Lifestyle
Edit
Richie is a desperately ambitious actor with little but a few unremarkable television adverts to his name. He has a very distorted opinion of his own self-importance and celebrity status. Throughout the series he is seen entering into various social situations (supermarkets, newsagents, etc) and making futile efforts to become the centre of attention, demand free products, and generally make an arse of himself in front of the general public. He becomes incredibly annoyed when people don't recognise him, often getting very irate and normally assaulted/pelted with objects. 
Like his future Bottom character Richard Richard, Richie becomes overly embellished with his personal ventures. In Episode 2 when appearing on Oo-Er That Sounds A Bit Rude, he takes every opportunity to interrupt the flow of the live recording and tries to be the centre of attention by shouting and laughing in an exagerrated way at every joke. Also in the same episode, he is seen ranting that the producers of the show didn't give him his own dressing room, and subsequently wanders into the Nolan sisters dressing room, eats their lipstick and then tries on one of their dresses. 
He lives in a large studio flat with his minder Eddie Catflap, with whom he has a rather violent relationship much like the Bottom incarnation of Eddie. His agent is a weary gentleman called Ralph Filthy, who repeatedly fails to perform his job by failing to secure Richie any work as an actor.
Similarities to Richie in Bottom
Edit
Fancies himself as a farmer.
Has various film posters and photographs on display that have been doctored to include images of himself.
Wears similarly patterned pyjamas.
Frequently becomes embroiled in ridiculous double entendres with Eddie.
Has a sadistic streak which includes stabbing Eddie in the eye with a pencil and killing two milkmen.
Has a very small penis and is possibly a virgin.
Incredibly petulent, pedantic and possibly insane.
Sometimes uses very feminine mannerisms.
Massively overestimates his social status and has a very distorted view of his own self-importance.