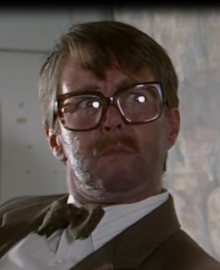 Overview
Edit
Norman Bormann is a recurring character in The New Statesman, and is portrayed by actress R.R. Cooper.
Norman is Alan's personal accountant and confidante, and is arguably the only character Alan is seen to truly trust and respect. Their relationship is often one-sided though in terms of the benefits it brings; Norman is able to wield great power through insidious means, and charges Alan through-the-nose for it.
He first appears in "Happiness Is A Warm Gun," hiding in a decrepit disused train carriage. On the run from the authorities for fraud, he has abandoned his offices in Cavendish Square and taken refuge in a siding. Alan arrives to speak to him about acquiring a supply of guns for the police, and finds him burning paperwork. Conforming to Alan's request, he has sourced a supplier for the guns - Smith & Wesson .38 seven shot revolvers. Alan is provided with an example, which he tells Norman feels rather light in weight. Norman tells him that's because it is made from recycled frying pans and will probably explode when fired. Alan seems undeterred by this and asks for the suppliers contact details - Norman won't give up the information without a payment, and Alan gives Norman the £2000 he asks for. The supplier is Mohammed Iqbal Shah, International Armaments Ltd, operating out of Accrington. Norman tells Alan that he'll be using the £2000 to pay for a sex change, so that he can kill Norman off and escape the authorities by masquerading as a woman.
In "Passport To Freedom" Norman has taken to hiding out, in relative plain sight, in a disused ambulance in the middle of the city. He has parked it on a single yellow line, and subsequently it has been clamped. Alan visits Norman to discuss news of his impending divorce from Sarah, and has preempted any legal action from Sarah's lawyers by moving all of Alan's money to an off-shore bank account in the Vatican City. Alan is not satisfied with this, and asks for more help because divorcing Sarah will mean he will probably lose his membership of the Tory Party. In exchange for further funding for his sex change, he agrees to help out by formulating a plan for Sarah to lose all of her money by destroying Ocelot Motors, with whom she owns over £1 million in shares.
Norman is, of course, played by an actress from the start to facilitate later appearances where he is becoming more feminine in appearance.
Ad blocker interference detected!
Wikia is a free-to-use site that makes money from advertising. We have a modified experience for viewers using ad blockers

Wikia is not accessible if you've made further modifications. Remove the custom ad blocker rule(s) and the page will load as expected.