Ian "Lemmy" Kilmister was the lead-singer and bass guitarist of British heavy metal band Motorhead from 1975 to 2015. Prior to this he played with space rock band Hawkwind, from which he was sacked in 1975.
In the
first episode
of the second series of
The Young Ones
, Lemmy and his band appear in the lounge area of the house when Mike demands a musical cue to play over the boys' journey to the train station. The band plays the entire song "Ace of Spades."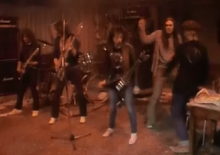 The band was one of many to appear in all but one of the twelve episodes of The Young Ones, including Nine Below Zero, Madness, Radical Posture, Dexys Midnight Runners, Rip Rig + Panic, Ken Bishop's Nice Twelve, The Damned, Amazulu and John Otway. Following this, Lemmy became friends with
Rik
and
Ade
.
During the filming of The Comic Strip Presents... More Bad News in 1986, Lemmy appeared alongside Rik, Ade and other comic alumni at the real Monsters of Rock Festival at Donington.
In 1987 Lemmy wrote and recorded the song Eat The Rich for The Comic Strip Presents... feature of the same name.
On 14th November 2010, Adrian Edmondson (under the moniker of his folk band The Bad Shepherds) released a cover of "Ace of Spades" on his album By Hook Or By Crook.
On 28th December 2015, Lemmy Kilmister passed away at his Los Angeles home from an aggressive form of cancer, only days after his 70th birthday. Tributes from stars and fans alike flooded social media. His death came only a month after the death of fellow band member Phil Taylor, who also appeared playing drums during the band's appearance in The Young Ones.
Ad blocker interference detected!
Wikia is a free-to-use site that makes money from advertising. We have a modified experience for viewers using ad blockers

Wikia is not accessible if you've made further modifications. Remove the custom ad blocker rule(s) and the page will load as expected.