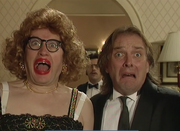 "Finger" is the fifth episode of the third series. It was first broadcast on 3 February 1995. After returning home from a cricket match, Richie learns that Eddie has stolen a mad Welshman's car keys.
Richie and Eddie return home from a "stag" cricket match for mad Welshman "Cannonball" Taffy O'Jones who is getting married soon. Richie has been polishing the ball a bit too enthusiastically and Eddie has acquired a significant amount of jumpers, hats and trousers. We learn that Taffy knocked Richie unconscious with a well-timed bowl, and was allowed to do this as a wedding present. Eddie then reveals that he has nicked Taffy's car keys, and they set out to cause some trouble for him. Arriving at his car, Richie jumps in but then realises that he has no idea how to drive. Eddie gives him some misguided advice and they end up reversing through the window of an off-license before making off down some country lanes. During the journey, Eddie finds Taffy's honeymoon tickets in the glove box, and they make their way to the Marvelloso Splendido Hotel-O in Wolverhampton.
They arrive at the hotel with the intention to impersonate Taffy and his new wife, meaning Eddie must doll himself up in drag in order to pass himself off as Mrs O'Jones convincingly. The guise does not go well, with Eddie accidentally putting his fake breasts on back to front and both of them falling down the stairs before dinner. Both try to get it on with one of the maids and Eddie ends up getting kicked in his "girls bits." At dinner they offend the maitre'd and Richie ends up scaring off half the diners with his awful Leonard Rossitter impression.
As they retire for the evening, Taffy arrives and is naturally very angry to find them there, and knocks them both out with two excellently placed cricket balls.
Guest Stars
Edit
Victor Spinotti as The Maitre'd
Kevin Allen as Marcel /Taffy
Caroline Gruber as The Maid
Gareth Marks as The Hotel Desk Clerk
Rupert Rainsford as The Concierge
Fluffs (read before adding to this section)Edit
Continuity
Edit
External Links
Edit
Ad blocker interference detected!
Wikia is a free-to-use site that makes money from advertising. We have a modified experience for viewers using ad blockers

Wikia is not accessible if you've made further modifications. Remove the custom ad blocker rule(s) and the page will load as expected.