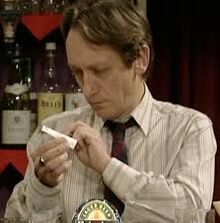 Dick Head is a recurring character in the TV sitcom Bottom. He is portrayed by actor Lee Cornes. Along with Dave Hedgehog, Spudgun and Mr Harrison, he is one of only a handful of characters to feature more than once across the three series. He is first seen in "Smells," later appearing in "Parade" and "Dough."
Appearance
Edit
Dick is short in height, gaunt, with slicked-back hair and normally wears a drab-looking shirt. He is rarely seen in any other place than behind the bar of the Lamb & Flag pub, of which he is the landlord.
Personality & Lifestyle
Edit
Dick is very droll, almost lacking any type of personality or sense of humour. The unfortunate combination of forename and surname he has been afflicted with does not tickle his funny bone at all. He dislikes Richie and Eddie, but tolerates them in his pub likely because they actually spend money there, although he is always wise to their attempts of skirting around paying for their drinks. He has connections with various aspects of the criminal underworld of Hammersmith, including Skullcrusher Henderson and Tight-Mouthed Larry.In "Parade," he is revealed to have entered into a swindle with bewildered betting shop guru Tight-Mouthed Larry to convince the patrons of the Lamb & Flag to place large amounts of money on a three-legged blind horse called Sad Ken. In "Dough," he is seen to accept other forms of payment for his services, in the form of gold teeth. In the same episode, he regales to Eddie about his short spell playing football for Queens Park Rangers, during which he scored an own-goal against for his one and only match. Legendary footballer Les Ferdinand apparently punched Dick for the indiscretion. Judging from Eddie's reaction to the story, he has apparently told it a number of times before. Dick has a niece called Veronica, whom he employs as a barmaid for a short time [Dough.]
Dick is referenced in other episodes by Richie and Eddie, most notably in "Break" when Eddie mentions that he and Richie had been caught by Dick filling their glasses from the drip tray, and in "Carnival" when they spot Dick chucking an unruly rioter out of the front doors of the pub.
Lee Cornes played a bin man in the pilot episode of Filthy, Rich & Catflap.
He has also appeared in Red Dwarf, Rab C. Nesbitt, Grange Hill, Blackadder and The Young Ones. He also appeared as the headmaster in the music video to "One Step Closer To Heaven" by S Club Juniors.
As a screenwriter he has written a number of episodes of Mr Bean - The Animated Series.
Despite several appearances, Dick does not acquire his surname until "Dough" in series three.
Ad blocker interference detected!
Wikia is a free-to-use site that makes money from advertising. We have a modified experience for viewers using ad blockers

Wikia is not accessible if you've made further modifications. Remove the custom ad blocker rule(s) and the page will load as expected.