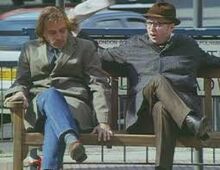 The Bottom Bench is, well, a bench. There's no other way to describe it really! Located at the junction of Queen Caroline Street and Hammersmith Bridge Road in Hammersmith, London, it is seen in the opening credits of Bottom and serves as the setting of a brief fight between Richie and Eddie as the title card plays.
Current Status
Edit
In 2010 Rik Mayall reported in an interview with BBC News his disappointment that the bench had been removed by Hammersmith Council to make way for a new pelican crossing. Mayall was deeply annoyed at the bench's removal and stated "If you were to come to the end of King Street where it meets the big roundabout to get to the Hammersmith Apollo, you'd find that same bench on a traffic island - until one day they took it away and put a pelican crossing in its place. That for me is the worst journey I ever made, discovering what had happened to that bench."
Following Rik Mayall's death in June 2014, a petition by 7,000 fans to Hammersmith Council successfully led to the siting of a new bench in the same spot. The new bench, made of metal instead of wood, was unveiled on 14th November 2014 complete with a plaque dedicated to Mayall. Present at the unveiling was comedian Nigel Planer and a large number of fans from far and wide.
In 2015, fans involved with the petition reported on Facebook that an unidentified man had removed all of tributes that were attached to the railings, including the blue commemorative plaque. Speculation that the local council were to blame was rife early on, however local cafe owners reported seeing a member of the public removing the items. The bench, and brass plaque, remain intact and in place.
Ad blocker interference detected!
Wikia is a free-to-use site that makes money from advertising. We have a modified experience for viewers using ad blockers

Wikia is not accessible if you've made further modifications. Remove the custom ad blocker rule(s) and the page will load as expected.